Learning Outcome: the learner is able to identify the different bounce and speed level of a tennis ball on three different types of tennis courts.
Intended Students: this graphic is suitable for all tennis learners at the beginner level.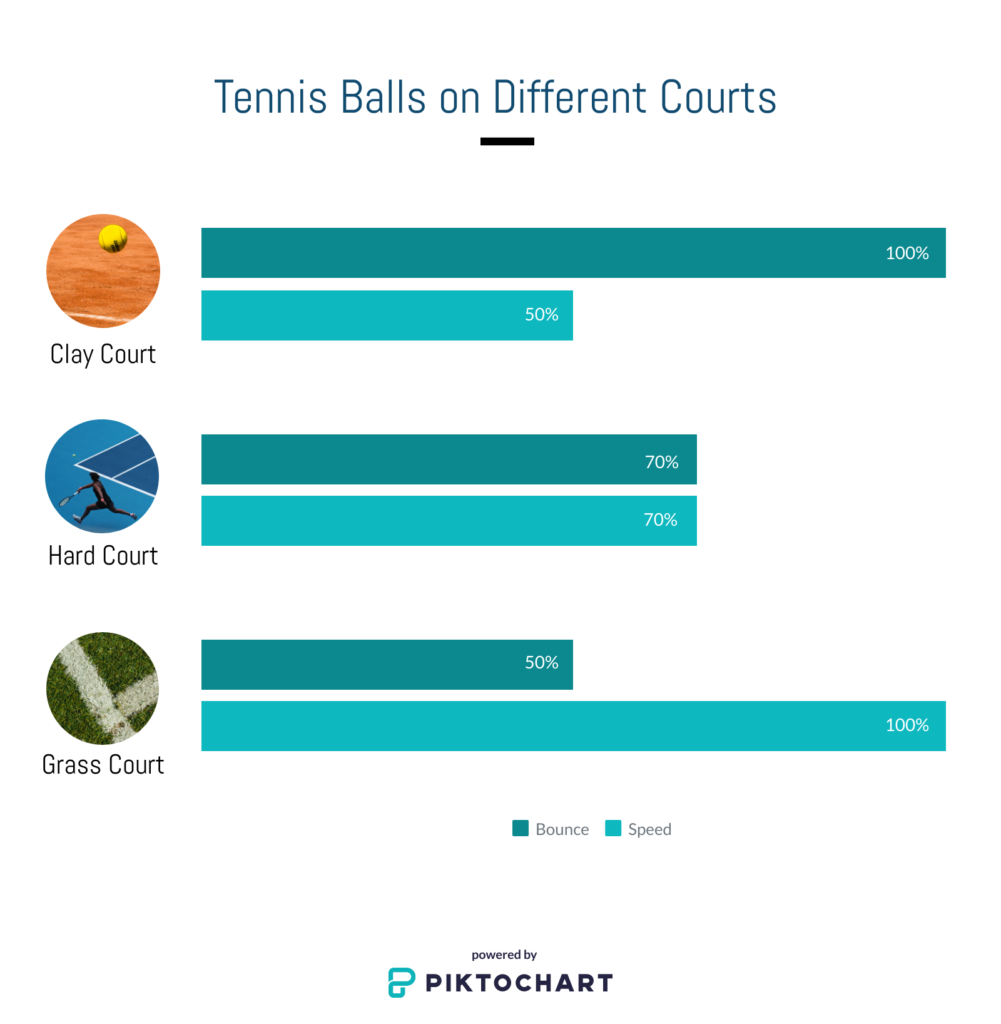 Reference Theory
According to Dunlap and Lowenthal (2016), "effective infographics rely primarily on visual elements and structure, as opposed to text, to convey content/messages." So, it is essential to spend a considerable amount of time considering the design of visual elements and make sure they precisely express the instructional meaning to the learners. I tried to use some templates from Piktochart, but I failed to find the proper one for my context. The graphic I created wants to present the different attributes (bounce and speed) a tennis ball performs in three courts. I utilized a horizontal bar chart to compare the three situations, and words and relevant images represent each court.
Three courts are sorted by bounce level from highest to lowest and speed level from lowest to highest. This design is supposed to help readers understand their changing patterns and help make connections and increase information retention. According to Balliett (2011), the graphics should not be used to "tell the story"; Instead, they should be used to show the data or information. That's why I left a minimal number of texts in the infographic and try to present different graphics to show the instructional message.
However, when thinking about the question: "how can it be visualized?" This graphic might not be the best choice when taking the context–tennis–into consideration. I thought about using graphics of a tennis ball's bounce height to present different types of courts, but apparently, it might take a longer time to produce it.
Using a platform like Piktochat has some limitations, like it might not be flexible enough or could not create detailed creations. But its advantages outweigh the disadvantages, especially for online educators. For instance, it provides many templates that are free to use, and most of them just need a few editing then ready to be used. The images I used in this activity are provided by the platform, and they are free to use.
---
References
Dunlap, J. C. & Lowenthal, P. R. (2016, September 8). Getting graphic about infographics: Design lessons learned from popular infographics. Journal of Visual Literacy, 35(1), 42–59.
https://doi.org/10.1080/1051144X.2016.1205832
Balliett, A. (2011, October 14). The do's and don'ts of infographic design. Smashing Magazine.
https://www.smashingmagazine.com/2011/10/the-dos-and-donts-of-infographic-design/